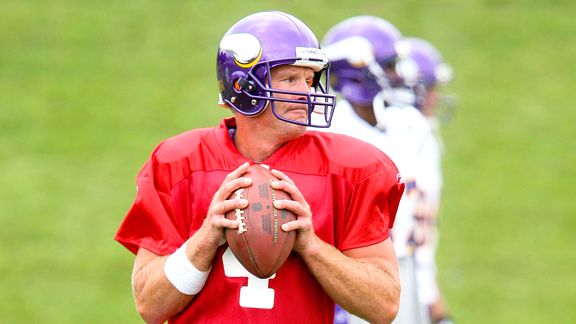 By
Kevin Seifert
(ESPN) ...Ultimately, Longwell said, "we asked him to do it for the guys."
And here, based on what he said Wednesday, is what quarterback Brett Favre heard:
"[They] were like, 'Hey, if you could do us one favor. And that's a pretty big favor.'"
Awesome.
Brilliant.
Just beautiful, really.
I mean this in all sincerity, with no malice and (almost no) sarcasm: Only Favre could manipulate that recruiting mission into a no-lose situation for himself. That's essentially the message Favre conveyed Wednesday during his return-to-Minnesota news conference. He will play not because of his reported $16.5 million salary, not for a chance to enhance his NFL records or to prove he can play at age 41.
This season is a "favor" for the players with whom he spent five months of his 20-year NFL career, an attempt to give it "one more try" to help them win a Super Bowl. Favre, in fact, used the word "favor" six times in 33 minutes. And if it doesn't work out? It was just a favor, anyway.